OEM Cast Iron Products
Grey cast iron (also called grey cast iron) is a group of cast iron including several kinds of grade according to different designation of diverse standards. Gray cast iron is a kind of iron-carbon alloy and it gets its name "grey" from the fact that their cutting sections looks grey. The metallographic structure of gray cast iron is mainly composed of flake graphite, metal matrix and grain boundary eutectic. During the grey iron, the Carbon is in the flake graphite. As one of the widely used casting metals, cast gray iron has many advangates in costs, castability and machinablity.
​

Sand casting process offers the greatest flexibility and the most cost-effective tooling. Our sand casting foundry is equipped with a complete metallurgical laboratory to determine the chemical and mechanical characteristics of each melt and to analyse the metallugic condition of the molten metal before pouring. Microsections are examined under the microscope to obtain final information on the solified casting. We issue 3.1 certificate for each delivered part on customer request.
Cast Iron
Grade
Standard
Grey Cast Iron
EN-GJL-150
EN 1561
EN-GJL-200
EN-GJL-250
EN-GJL-300
EN-GJL-350
Ductile Cast Iron
EN-GJS-350-22/LT
EN 1563
EN-GJS-400-18/LT
EN-GJS-400-15
EN-GJS-450-10
EN-GJS-500-7
EN-GJS-550-5
EN-GJS-600-3
N-GJS-700-2
EN-GJS-800-2
Austempered Ductile Iron
EN-GJS-800-8
EN 1564
EN-GJS-1000-5
EN-GJS-1200-2
SiMo Cast Iron
EN-GJS-SiMo 40-6
EN-GJS-SiMo 50-6
As an OEM gray iron casting parts manufacturer and foundry, RMC can pour iron castings using our No-bake process up to ten tons finished weight in gray iron castings and ductile iron castings, and up to five tons in steel castings and stainless steel castings. RMC can produce casting parts in a wide variety of materials, including grey iron, ductile iron, stainless steel, carbon steel, wear-resistant steel, and heat-resistant steel based on different standards from China and overseas.
▶ Capabilities of Sand Casting moulded by hand:
• Max Size: 1,500 mm × 1000 mm × 500 mm
• Weight Range: 0.5 kg - 500 kg
• Annual Capacity: 5,000 tons - 6,000 tons
• Tolerances: On Request.

▶ Capabilities of Sand Casting by Automatic Molding Machines:
• Max Size: 1,000 mm × 800 mm × 500 mm
• Weight Range: 0.5 kg - 500 kg
• Annual Capacity: 8,000 tons - 10,000 tons
• Tolerances: On Request.

▶ Main Production Procedure
• Patterns & Tooling Design → Making Patterns → Moulding Process → Chemical Composition Analysis → Melting & Pouring → Cleaning, Grinding & Shot Blasting → Post Processing or Packing for Shipment

▶ Post-Casting Process
• Deburring & Cleaning
• Shot Blasting / Sand Peening
• Heat Treatment: Normalization, Quench, Tempering, Carburization, Nitriding
• Surface Treatment: Andonized, Hot Dip Zinc, Polishing, Painting,
• Machining: Turning, Milling, Lathing, Drilling, Honing, Grinding,

▶ General Commerial Terms
• Main workflow: Inquiry & Quotation → Confirming Details / Cost Reduction Proposals → Tooling Development → Trial Casting → Samples Approval → Trial Order → Mass Production → Continuous Order Proceeding
• Leadtime: Est. 15-25 days for tooling development. Est. 20 days for mass production.
• Payment Terms: To be negotiated.
• Payment methods: T/T, L/C, West Union, Paypal.

Sand Casting Facilities at RMC: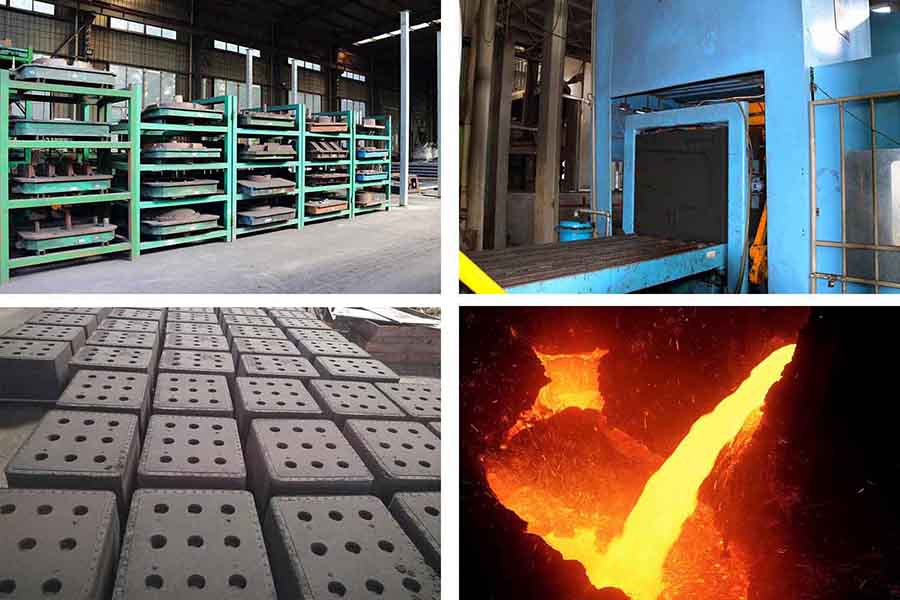 Sand Casting Equipment at RMC Foundry

Sand Casting Equipment
Inspection Equipment
Description
Quantity
Description
Quantity

Vertical Automatic Sand Mold Casting Line

1

Hareness Tester

1

Horizontal Automatic Sand Mold Casting Line

1

Spectrometer

1

Medium-Frequency Induction Furnace

2

Metallurgical Microscope Tester

1

Automatic Sand Molding Machine

10

Tensile Strength Testing Machine

1

Baking Furnace

2

Yield Strength Tester

1

Hanger Type Shot Blasting Machine

3

Carbon-Sulfur Analyzer

1

Sand Blasting Booth

1

CMM

1

Drum Type Shot Blasting Machine

5

Vernier Caliper

20

Abrasive Belt Machine

5

CNC Machining Machine

Cutting Machine

2

Air Plasma Cutting Machine

1

Pickling Equipment

2

Vertical Machining Center

6

Pressure Shaping Machine

4

Horizontal Machining Center

4

DC Welding Machine

2

CNC Lathing Machine

20

Argon Arc Welding Machine

3

CNC Milling Machine

10

Electro-Polish Equipment

1

Honing Machine

2

Polishing Machine

8

Vertical Drilling Machine

4

Vibrate Grinding Machine

3

Milling and Drilling Machine

4

Heat Treatment Furnace

3

Tapping and Drilling Machine

10

Automatic Cleaning Line

1

Grinding Machine

2

Automatic Painting Line

1

Ultrasonic Cleaning Machine

1

Sand Processing Equipment

2

Dust Collector

3
The Grades and Standards We Follow for Gray Cast Iron:
ISO185: 100, 150, 200, 250, 300
ASTM A48: NO.20, NO.25, NO.30, NO.35, NO.40, NO.45
DIN 1691: GG10, GG15, GG20, GG25, GG30
EN 1561: EN-GJL-100, EN-GJL-150, EN-GJL-200, EN-GJL-250, EN-GJL-300
BS 1452: 100, 150, 200, 250, 300
AS 1830: T150, T220, T260, T300
​