OEM Custom Stainless Steel Investment Casting Parts from China Lost Wax Casting Foundry.
Austenitic stainless steel refers to stainless steel with an austenitic structure at room temperature. Austenitic stainless steel is one of the five classes of stainless steel by crystalline structure (along with ferritic, martensitic, duplex and precipitation hardened). In some areas, the austentite stainless steel is also called the 300 series stainless steel. When the steel contains about 18% Cr, 8%-25% Ni, and about 0.1% C, it has a stable austenite structure. Austenitic chromium-nickel stainless steel includes the famous 18Cr-8Ni steel and the high Cr-Ni series steel developed by adding Cr and Ni content and adding Mo, Cu, Si, Nb, Ti and other elements on this basis. Austenitic stainless steel is non-magnetic and has high toughness and plasticity, but its strength is low, and it is impossible to strengthen it through phase transformation. It can only be strengthened by cold working. If elements such as S, Ca, Se, Te are added, it has good properties of machinability.

Austenitic stainless steel can also produce castings. In order to improve the fluidity of molten steel and improve casting performance, the alloy composition of cast steel should be adjusted by increasing the silicon content, enlarging the range of chromium and nickel content, and increasing the upper limit of the impurity element sulfur. Austenitic stainless steel should be solid-solution treated before use, so as to maximize the solid solution of various precipitates such as carbides in the steel into the austenite matrix, while also homogenizing the structure and eliminating stress, so as to ensure excellent Corrosion resistance and mechanical properties.
▶ Raw Materials Available for Investment Casting (Lost Wax Casting Process)
• Carbon Steel: AISI 1020 - AISI 1060,
• Steel Alloys: ZG20SiMn, ZG30SiMn, ZG30CrMo, ZG35CrMo, ZG35SiMn, ZG35CrMnSi, ZG40Mn, ZG40Cr, ZG42Cr, ZG42CrMo...etc on request.
• Stainless Steel: AISI 304, AISI 304L, AISI 316, AISI 316L and other stainless steel grade.
• Brass & Copper.
• Other Materials and Standards on request
▶ Capabilities of Steel Investment Casting at RMC's Lost Wax Investment Casting Foundry
• Max Size: 1,000 mm × 800 mm × 500 mm
• Weight Range: 0.5 kg - 100 kg
• Annual Capacity: 2,000 tons
• Tolerances: On Request.
▶ Main Production Procedure
• Patterns & Tooling Design → Metal Die Making → Wax Injection → Slurry Assembly → Shell Building → De-Waxing → Chemical Composition Analysis → Melting & Pouring → Cleaning, Grinding & Shot Blasting → Post Processing or Packing for Shipment
▶ Inspecting Lost Wax Castings
• Spectrographic and manual quantitative analysis
• Metallographic analysis
• Brinell, Rockwell and Vickers hardness inspection
• Mechanical property analysis
• Low and normal temperature impact testing
• Cleanliness inspection
• UT, MT and RT inspection
▶ Post-Casting Process
• Deburring & Cleaning
• Shot Blasting / Sand Peening
• Heat Treatment: Normalization, Quench, Tempering, Carburization, Nitriding
• Surface Treatment: Passivation, Andonizing, Electroplating, Hot Zinc Plating, Zinc Plating, Nickel Plating, Polishing, Electro-Polishing, Painting, GeoMet, Zintec.
• Machining: Turning, Milling, Lathing, Drilling, Honing, Grinding.
▶ Why You Choose RMC for Custom Lost Wax Casting Parts?
• Full solution from one single supplier ranging customized pattern design to finished castings and secondary process including machining, heat treatment and surface treatment.
• Costdown proposals from our professional engineers based on your unique requirement.
• Short leadtime for prototype, trial casting and any possible technical improvement.
• Bonded Materials: Silica Col, Water Glass and their mixtures.
• Manufacturing flexibility for small orders to mass orders.
• Strong outsourcing manufacturing capabilities.
▶ General Commerial Terms
• Main workflow: Inquiry & Quotation → Confirming Details / Cost Reduction Proposals → Tooling Development → Trial Casting → Samples Approval → Trial Order → Mass Production → Continuous Order Proceeding
• Leadtime: Estimatedly 15-25 days for tooling development and estimatedly 20 days for mass production.
• Payment Terms: To be negotiated.
• Payment methods: T/T, L/C, West Union, Paypal.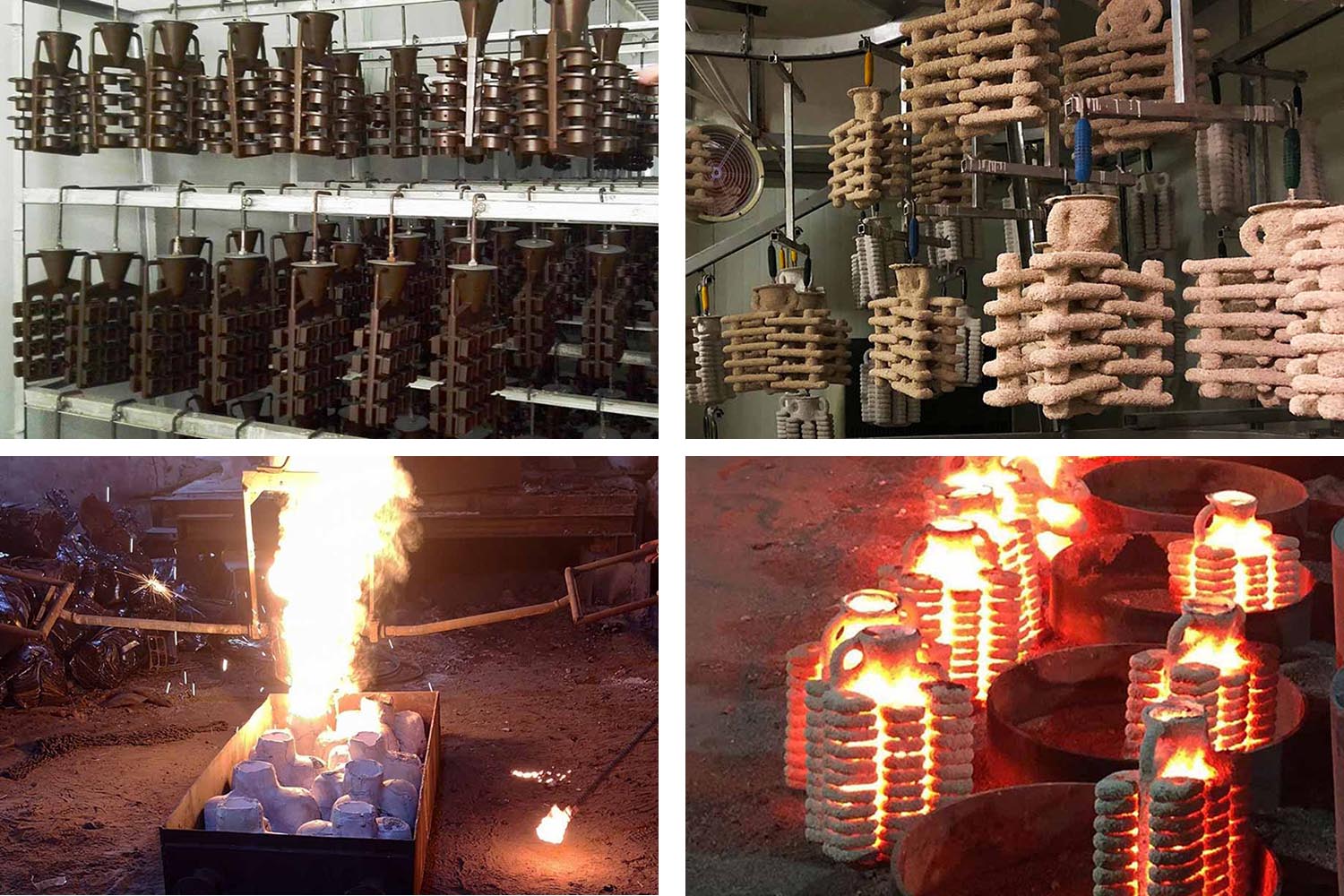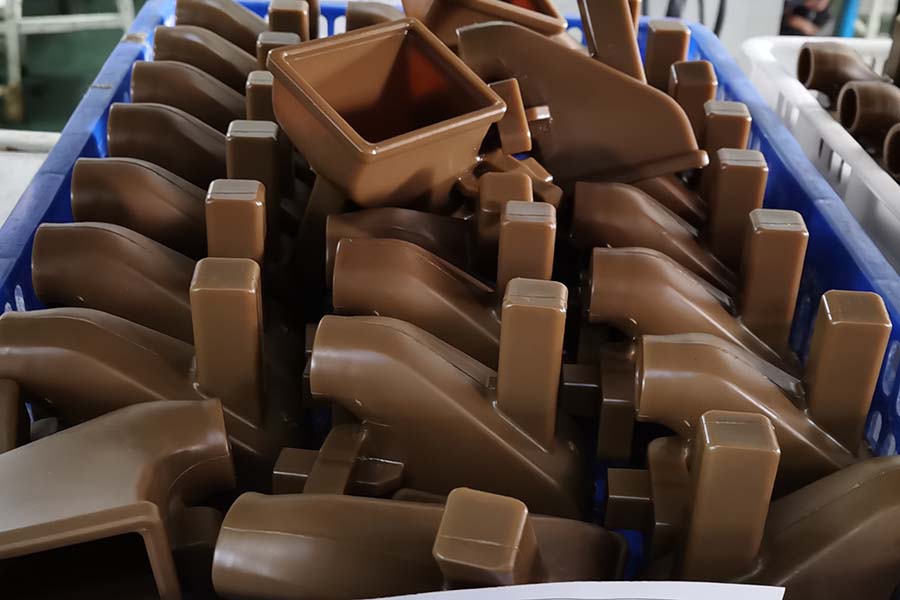 Capabilities for Casting at RMC

Casting Process
Annual Capacity / Tons
Main Materials
Casting Weights
Dimensional Tolerance Grade of Castings (ISO 8062)
Heat Treatment

Green Sand Casting

6000

Cast Gray Iron, Cast Ductile Iron, Cast Aluminium, Brass, Cast Steel, Stainless Steel

0.3 kg to 200 kg

CT11~CT14

Normalization, Quenching, Tempering, Annealing, Carburization

Shell Mold Casting

0.66 lbs to 440 lbs

CT8~CT12

Lost Wax Investment Casting

Water Glass Casting

3000

Stainless Steel, Carbon Steel, Steel Alloys, Brass, Cast Aluminium, Duplex Stainless Steel

0.1 kg to 50 kg

CT5~CT9

0.22 lbs to 110 lbs

Silica Sol Casting

1000

0.05 kg to 50 kg

CT4~CT6

0.11 lbs to 110 lbs

Lost Foam Casting

4000

Gray Iron, Ductile Iron, Steel Alloys, Carbon Steel, Stainless Steel

10 kg to 300 kg

CT8~CT12

22 lbs to 660 lbs

Vacuum Casting

3000

Gray Iron, Ductile Iron, Steel Alloys, Carbon Steel, Stainless Steel

10 kg to 300 kg

CT8~CT12

22 lbs to 660 lbs

High Pressure Die Casting

500

Aluminium Alloys, Zinc Alloys

0.1 kg to 50 kg

CT4~CT7

0.22 lbs to 110 lbs